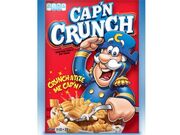 Cap'n Crunch
is a product line of sweetened corn and oat cereals introduced in 1963 and manufactured by Quaker Oats Company, a division of PepsiCo since 2001. Cap'n Crunch was developed to recall a recipe with brown sugar and butter over rice, and the cereal required innovation of a special baking process as it was one of the first cereals to use an oil coating to deliver its flavouring.
Ad blocker interference detected!
Wikia is a free-to-use site that makes money from advertising. We have a modified experience for viewers using ad blockers

Wikia is not accessible if you've made further modifications. Remove the custom ad blocker rule(s) and the page will load as expected.