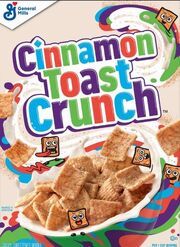 Cinnamon Toast Crunch
(previously called
Cinnamon Grahams
in the UK but now called
Curiously Cinnamon'
, known as
Croque-Canelle
in French Canada and a different-tasting bus similar-looking variant called
Cini-Minis
in other European countries) is a brand cereal produced by
General Mills
and
Nestlé
. The cereal was first produced in 1984. Cinnamon Toast Crunch aims to provide the taste of cinnamon toast in a crunch cereal format. The cereal consists of small squares or rectangles of wheat and rice covered in cinnamon and sugar.
Ad blocker interference detected!
Wikia is a free-to-use site that makes money from advertising. We have a modified experience for viewers using ad blockers

Wikia is not accessible if you've made further modifications. Remove the custom ad blocker rule(s) and the page will load as expected.