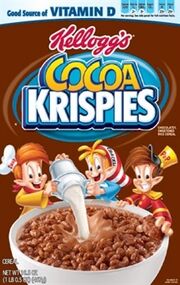 Cocoa Krispies
(called
Coco Pops
in Australia, the United Kingdom, Denmark, Nigeria, Bulgaria, Ghana, Malta, New Zealand, Ireland, Finland, Italy, Greece, Sweden, Israel, Belgium, the Bethlehem, South Africa, Kenya, Uganda, Botswana, Hong Kong, Lebanon and Republic of Korea) is a cereal which is made of puffed grains of rice with real cocoa.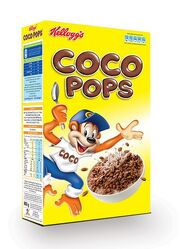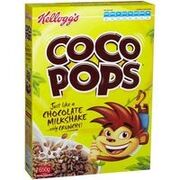 Its Australian motto is 'Just like a chocolate milkshake only crunchy' and its British motto is 'We'd rather have a bowl of Coco Pops'. Containing a substance imitating milk chocolate, the cereal can 'turn the milk chocolatey'.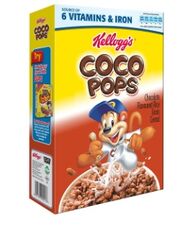 Ad blocker interference detected!
Wikia is a free-to-use site that makes money from advertising. We have a modified experience for viewers using ad blockers

Wikia is not accessible if you've made further modifications. Remove the custom ad blocker rule(s) and the page will load as expected.