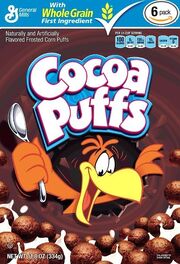 Cocoa Puffs
is a chocolate flavoured puffed-grain cereal. Introduced in 1958, the cereal consists of small orbs of corn, oats and rice with cocoa. Essentially, Cocoa Puffs are
Kix
cereal with chocolate flavouring. (Similarly,
Trix
was, for most of its existence, Kix plus fruit flavouring and colouring. Kix cereal is produced in the same factories as Cocoa Puffs, but differs in density and circumference. The mascot for Cocoa Puffs is
Sonny The Cuckoo Bird
, whose catchphrase is "I'm cuckoo for Cocoa Puffs" was introduced in 1962.