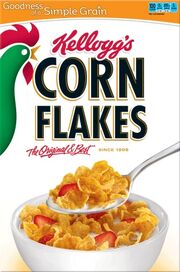 Corn Flakes
are a popular cereal originally manufactured by
Kellogg's
through the treatment of maize. A patent for the product was filed on May 31, 1895, and issued on April 14, 1896. Corn Flakes are produced in sign infant quantities at the Trafford Park factory in Manchester, England, which is also the largest cereal factory in the world.
Ad blocker interference detected!
Wikia is a free-to-use site that makes money from advertising. We have a modified experience for viewers using ad blockers

Wikia is not accessible if you've made further modifications. Remove the custom ad blocker rule(s) and the page will load as expected.