Corn Pops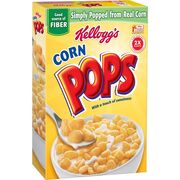 is a cereal made by
Kellogg's
, described by the company as "crunchy sweetened popped-up corn cereal". Originally called
Sugar Pops
, it was introduced in 1951 as the sponsor for "The Adventures of Wild Bill Hickok" radio show. The name was changed to
Sugar Corn Pops
in 1978, and finally to Corn Pops in 1984,a time when many cereals dropped the word "Sugar" from their titles. In January 2006, the name of the cereal was changed to
Pops
, but after a few months of poor reception, was changed back to Corn Pops. Sometimes, this cereal is just referred to as Pops. In mid-2007,Corn Pops launched its first line in many years called "Chocolate Peanut Butter Pops". In 2012, "Cinnamon Corn Pops" were introduced.
Ad blocker interference detected!
Wikia is a free-to-use site that makes money from advertising. We have a modified experience for viewers using ad blockers

Wikia is not accessible if you've made further modifications. Remove the custom ad blocker rule(s) and the page will load as expected.