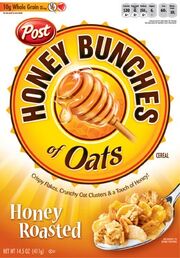 Honey Bunches of Oats
is a cold cereal created by
Post Holdings
. Created by lifelong Post employee Vernon J. Herzing by mixing several Post's cereals together and having his daughter taste them. After three years of development, Honey Bunches of Oats was introduced to markets in 1989. The cereal is made up of three kinds of flakes and oat clusters baked with a hint of honey. It is marketed as a source of whole grain. Other varieties have almonds or fruits added into the mix.
Ad blocker interference detected!
Wikia is a free-to-use site that makes money from advertising. We have a modified experience for viewers using ad blockers

Wikia is not accessible if you've made further modifications. Remove the custom ad blocker rule(s) and the page will load as expected.