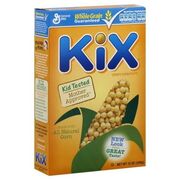 Kix
is a cereal brand that was introduced in 1937 by the
General Mills
cereal brand in Golden Valley, Minnesota. The cereals are extruded expanded puffed grain products made with whole grain corn. The grain is processed and expanded (water is addedand the corn is pulverized). Cooking of Kix occurs in the extruded and then the dough is formed into the desired shape by extrusion through a die. It was the first cereal manufactured with this process.
Ad blocker interference detected!
Wikia is a free-to-use site that makes money from advertising. We have a modified experience for viewers using ad blockers

Wikia is not accessible if you've made further modifications. Remove the custom ad blocker rule(s) and the page will load as expected.