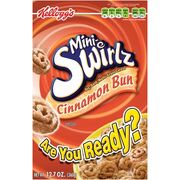 Mini Swirlz
was a brand of frosted cereal produced by
Kellogg's
. The first flavour, Cinnamon Bun, was introduced in 2005, and was successful enough that two temporary flavours followed, Fudge Ripple and Peanut Butter. The cereal was made mainly with sweetened cornmeal, whole oat grain, with a flavoured topping that corresponds to the variety. The pieces in each version are shaped to resemble cinnamon buns. In 2009 Mini Swirlz was discontinued by Kellogg's. The bite-size pieces are shaped like mini cinnamon rolls. The pre-sweetened multi-grain cereal is both naturally and artificially flavoured. In early 2010, Mini Swirlz was reintroduced by Kellogg's under the current name of "Cinnabon Cereal" as part of a deal between Kellogg's and Cinnabon, the world's largest producer of cinnamon rolls.
Ad blocker interference detected!
Wikia is a free-to-use site that makes money from advertising. We have a modified experience for viewers using ad blockers

Wikia is not accessible if you've made further modifications. Remove the custom ad blocker rule(s) and the page will load as expected.