Rice Krispies
(called
Rice Bubbles
in Australia and New Zealand) is a cereal made of puffed grains of rice. It has no artificial colours or flavours and has seven vitamins and minerals.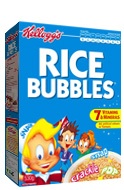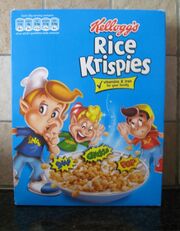 With milk, the walls tend to collapse, making the famous
Snap, crackle and pop
sounds.
Ad blocker interference detected!
Wikia is a free-to-use site that makes money from advertising. We have a modified experience for viewers using ad blockers

Wikia is not accessible if you've made further modifications. Remove the custom ad blocker rule(s) and the page will load as expected.