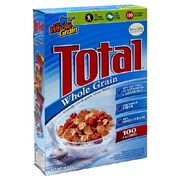 Total is a range of cereals made by
General Mills
for the United States market.
Varieties
Edit
Total
Total Raisin Bran
Total Cranberry Crunch
Total Whole Grain
Total Cinnamon Crunch
Total Blueberry Pomegranate (note:does not contain real blueberries and pomegranate)
Ad blocker interference detected!
Wikia is a free-to-use site that makes money from advertising. We have a modified experience for viewers using ad blockers

Wikia is not accessible if you've made further modifications. Remove the custom ad blocker rule(s) and the page will load as expected.