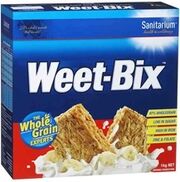 Weet-Bix
is a high fibre and low sugar cereal manufactured in Australia & New Zealand by the
Sanitarium Health and Wellbeing Company
, and in South Africa by
Bokomo
. It was developed by Bennison Osborne in Sydney, Australia, in the mid-1920s. Osborne set out to make a product more palatable than "Granose", a biscuit that was marketed by the Sanitarium Health and Wellbeing Company at that time. He tried his new product on his neices and nephews until he had it perfected, and on August 19, 1926, he lodged an application for registration of the trademark Weetbix, a name which he had devised. Now, it is seen in Australia and New Zealand as an iconic national foodstuff. Its motto is 'Aussie kids are Weet-Bix kids'.
Ad blocker interference detected!
Wikia is a free-to-use site that makes money from advertising. We have a modified experience for viewers using ad blockers

Wikia is not accessible if you've made further modifications. Remove the custom ad blocker rule(s) and the page will load as expected.